Things to Do After You Move Into Your New Home
May 14, 2019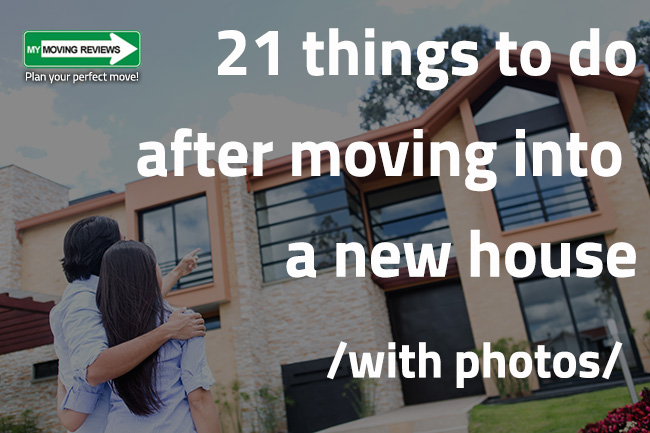 You've followed your moving checklist to plan and organize a very successful move. Now, you've safely reached your new home and you can't wait to mark properly the beginning of this exciting stage in your life. After all, it's not every day that you get to organize a perfect move without any major hiccups along the way, and on top of that, to move into a big and beautiful residence. You have every reason to be proud of yourself.
Unfortunately, it's way too early to open that bottle of champagne you've kept for years for special occasions like this one and celebrate the relocation success in style. There's still plenty of important work to be done around your house – a score of immediate tasks that brook no delay. Yes, there will be a suitable time for well-deserved celebrations later on, but right now it's time to roll up your sleeves one more time and get down to work.
Take advantage of our moving into a new house checklist – a visual moving house checklist that details what to do after you move into a new house.
1. Inspect Delivered Boxes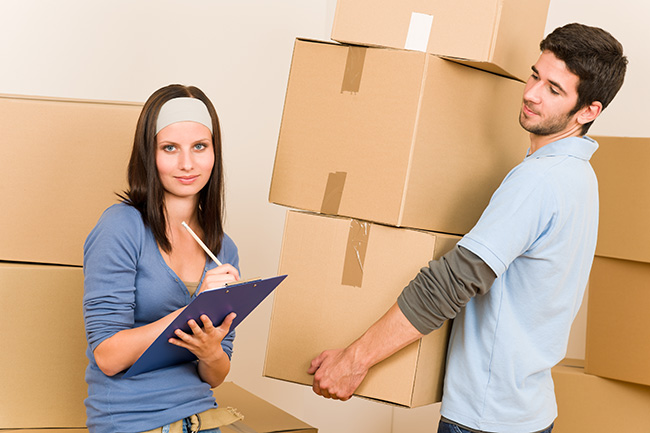 Inspect the moving boxes as they are carried inside your new home.
You do have the household inventory you prepared or received during the moving preparations, right? Check each moving box against the detailed list as it is carried inside your new home, and if a box or a household item happens to be missing, notify the moving crew right away and check together if it was left in the moving truck by mistake.
Once the movers leave, inspect each moving container for visual damage or any other signs of obvious mistreatment. If you find out broken or damaged goods, note down the specific damage in your inventory list and contact the moving company in an attempt to resolve the issue peacefully. If you were prudent enough to choose reliable and trustworthy movers, the dispute should be resolved quickly in your favor. However, should the moving company prefers to play dumb, exercise your consumer rights and file a complaint against your movers.
2. Get Your Utilities Up And Running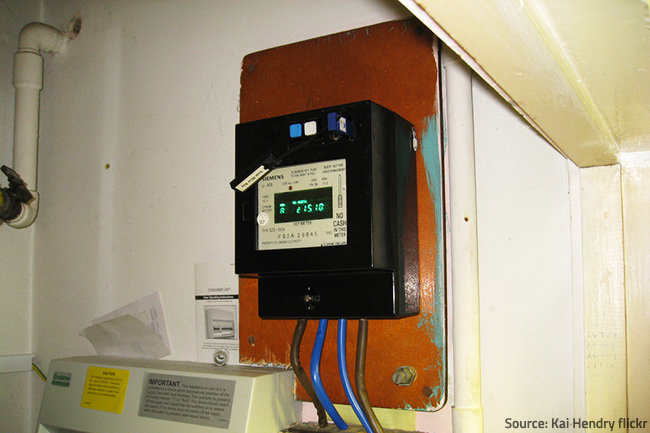 Be sure to note down the readings of the electricity meter and water meter, and keep the numbers in a safe place should a dispute of any sort arise.
You should have arranged the connection of the main house utilities before the move, but if you haven't done it for one reason or another, do so without delay. Naturally, the first utility companies to call are the power and water providers – things will look much brighter and smoother once you have electricity, gas and running water in your new house.
Having taken care of the fundamental utilities, consider making the necessary arrangements to gain access to the Internet, phone, and other important services.
3. Unpack Essentials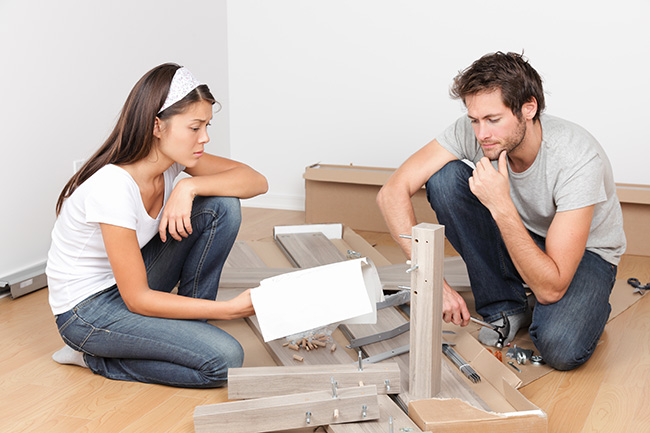 Get professional backup from your movers if you have trouble re-assembling your bed.
Proceed by unpacking your essentials boxes and prepare the two most important rooms for normal use – the bedroom and bathroom. Moving days have the tendency to drain out people's energy so you'll definitely need a place to lay your weary body at the end of the most stressful day when moving. Assemble your bed (if necessary), unpack the box labeled as "Bedding" and prepare your bed for sweet dreams. Before you call it a day, however, you'll desperately need to take a refreshing shower, so dig into the "Bathroom" container and take out the shower curtains, the towels, your favorite bathrobe, plus all the toiletries you'll need to take away the stress and dirt of moving day.
Of course, unpacking and arranging the kitchen is also a priority but the task can wait a few days until you get back on your feet.
4. Get Organized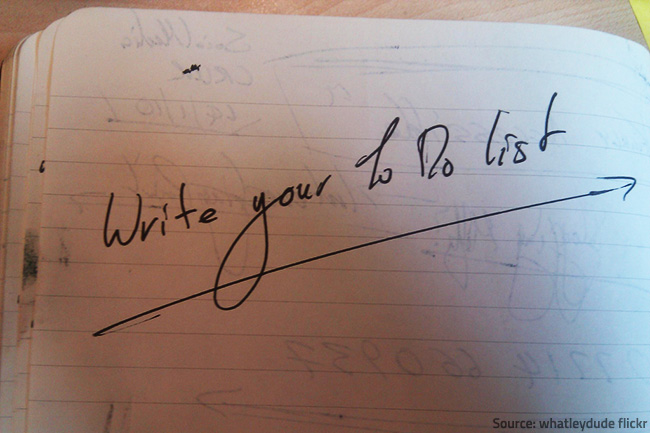 Make the most of your post-move time by creating a detailed to-do list and sticking to it.
It's very important that you find the time to prioritize your post-move time. Take out a notebook and start writing down all the immediate tasks that you'll have to take care of in the next few days, and even weeks. Just like the moving calendar enabled you to have a stress- and trouble-free move, this prioritized to-do list will clearly jump-start the speedy process of settling in your new home and your smooth period of acclimatization to the unknown surroundings.
5. Inspect Your House Thoroughly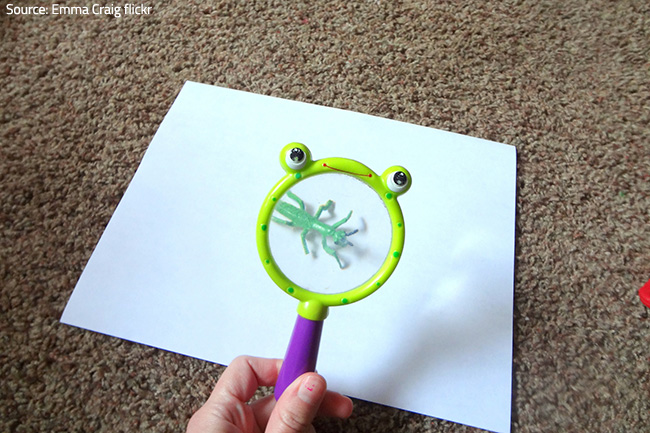 If you notice any unpleasant signs of pest infestation, deal with the issue on your own or call a pest control company if your efforts fail.
One of the first things to do after moving into a new house is to get to know your place inside out. Locate your favorite magnifying glass and inspect every nook and cranny of your new home as meticulously and passionately as if your birth name were Sherlock Holmes.
Inspect each and every room for visible signs of damage, especially from water or fire. Check for plumbing leaks, dripping faucets, and running toilets. One clever trick to make sure there are no water leaks of any kind is to register the readings of your water meter at the start and end of a period of several hours when no water is used anywhere in the house. If the two readings differ, then it's a sure sign that you have a leaking problem and you'll need to localize and fix it (or have it fixed).
Moreover, scour the front yard, the backyard and the perimeter of your house for any troublesome problems and do what's necessary to eliminate them.
6. Locate Fuse Box And Main Water Valve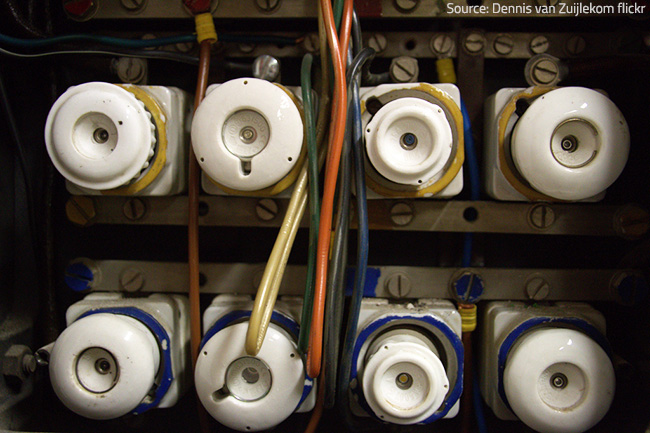 You'll need another person to help you out with the fuse identification (get ready for load shouts back and forth).
Make sure you know where your circuit breaker box and main water valve are located in case of emergencies, or just in case you're about to fix a power or water issue and need to turn off the electricity or cut off the water supply.
You must know which fuse controls which part of your new house if the fuses are not labeled at all or if the guy before you got it all wrong. Identify and label each circuit breaker accordingly. Similarly, get familiar with how the main water stop valve works and see if it functions properly by checking for any running water after the valve has been turned off. Replace it, or get it replaced if it's not working the way it should.
7. Secure Your New Home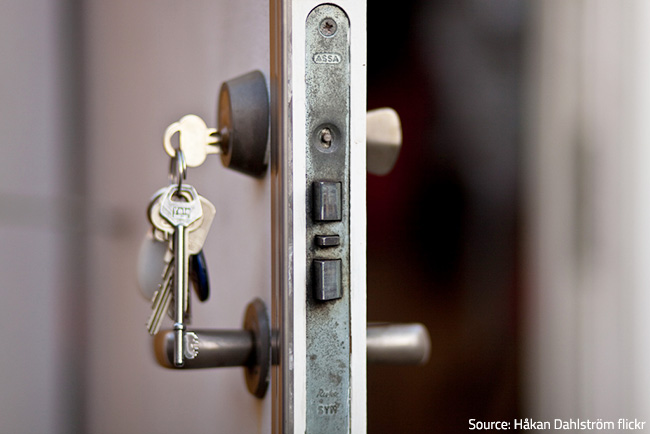 Do whatever it takes to provide a safe environment for you and your family.
Once the utilities have been connected, the house has been inspected for problems and the emergency centers located, it's time to secure your new home against unauthorized access or harmful acts of nature.
Change the locks on all outside doors to ensure that you and your family are the only persons who have access to your new home. Double-check all windows and doors and make sure they close securely. Install smoke detectors in every room. Provide at least one functional fire-extinguisher per floor. Purchase a few first-aid kits. Devise an escape plan out of the house in case of emergencies and make it known to each family member. Consult specialists and consider installing a burglar alarm, especially if your home is situated in a neighborhood with a relatively bad reputation.
8. Childproof Your New Home
A safe baby means a happy baby, and a happy baby means happy parents.
If you just moved into a new home with a baby or toddler, your house will have to go one step beyond the usual household security, and this additional step is called childproofing.Also known as baby-proofing, this safety step is more like a series of steps – an entire process which includes timely identification of all household hazards that await your little child and their subsequent effective elimination.
Start the childproofing process from the room your baby or toddler will be spending most of their time – the nursery room. Leave only two items in the crib – your happy baby and the fitted mattress sheet. Secure the changing table against accidental tip-overs, mount window guards and cordless blinds on the windows and electric outlet protectors on the walls.
Make your way to the bathroom and take all precautionary measures so that the bathing time of your little angel is nothing but fun. The kitchen, the stairs, and the living room are the other premises in your new house where things could go very wrong for your baby or toddler. Follow the link above to receive more information on how to childproof your new home.
9. Connect Major Appliances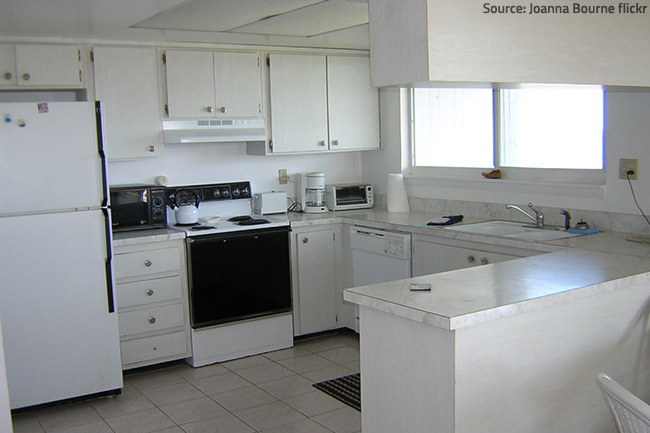 If your refrigerator is not cooling after the move, or one of your other kitchen appliances is not working properly, have it checked out by an authorized repair person.
If you have chosen to move your fridge, freezer, washing machine or dishwasher instead of selling them, giving them away to friends, donating them to charity or just throwing them away, now is the time to connect them and thus finish the process of unpacking and setting up the most delicious room in your new house or apartment – the kitchen.
Refrigerators are the most fragile appliances from the ones mentioned above and extra care should be taken in their preparation and actual relocation. Just like millions of other people, you're probably very interested in knowing the answer to the question, "How long do you have to let a fridge sit after moving it?". You need to leave your fridge upright on its final kitchen spot for at least 3 full hours before you can plug it in and turn it on after moving. This is roughly the time it takes for the oil, which must have escaped the compressor and flown into the cooling lines, to return to the heart of the cooling mechanism – the compressor.
10. Continue Unpacking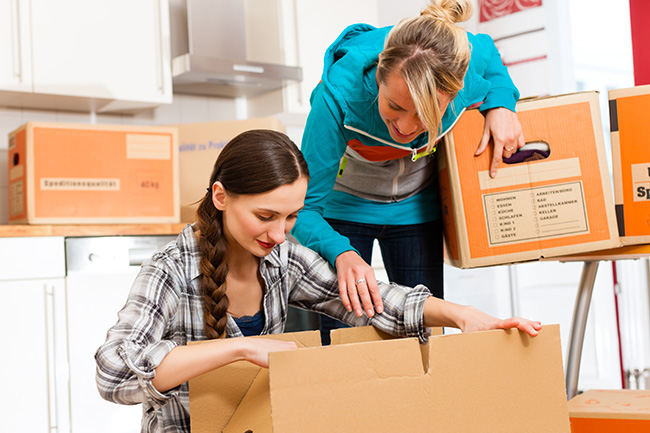 Timely help by good friends is always welcome, especially when packing and unpacking.
You already unpacked the essentials boxes and furnished and arranged the most frequently used rooms, but what about the rest of your new residence? Step by step, the unpacking process will stretch out and reach the living room, spare guest room, garage, basement, attic and any other storage areas of your home.
If you rate your unpacking pace as "excruciatingly slow" and you wish all items had been unpacked by now, you have a couple of options to speed up that slow post-move stage. You can either dig deeper into your pockets and hire a professional unpacking team to get the job done in no time, or you can organize an unpacking party and invite good friends to help you out in exchange for sweet talks, dear memories, great music, refreshing drinks, tasty food and your eternal gratitude.
11. Recycle Packing Materials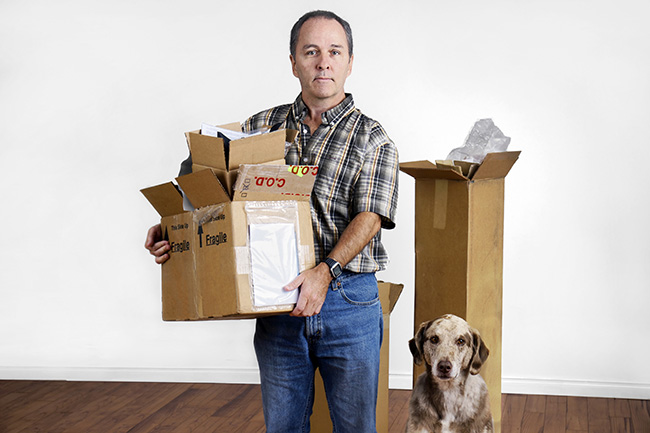 Show that you care for the environment by properly recycling the packing materials you no longer need.
Unpacking will leave you with plenty of packing materials which you may no longer need. Of course, a number of the moving boxes you used during the relocation will be in such a bad shape that you will have no other option but to throw them away for recycling. Others, however, will be good enough to survive the stress of another move and those you can keep for yourself, give to friends in need or try to sell (however, don't expect large profitable margins from their sale).
Besides the moving containers, bubble wrap and clean packing paper are the other packing supplies that you may come in pretty handy during another instance of moving house.
12. Clean Your House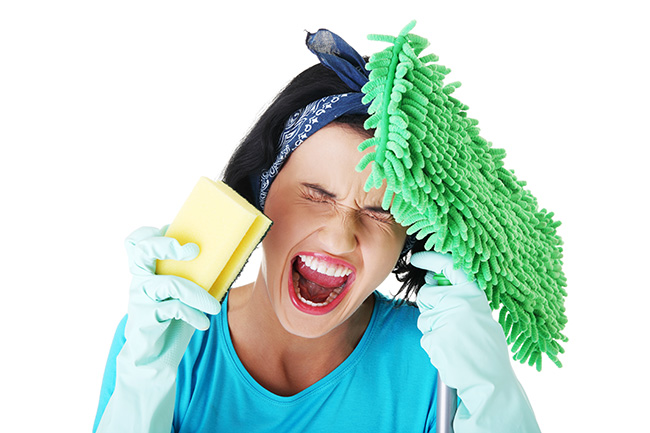 However tedious or unpleasant it may look and sound, cleaning your new house is something that has to be done at all costs
Without a doubt, unpacking will also leave you with tons of garbage, dust, and dirt. Besides a happy toast, the completion of the unpacking process coincides with the most opportune moment to clean thoroughly your entire home.
Purchase quality cleaning products and turn your house or apartment into a fresh and welcoming home. Everything should be dust-free, polished and shiny: carpets – vacuum-cleaned, floors – mopped, reflective surfaces – spotless, furniture pieces – gleaming and neatly arranged.
If you feel that you won't be able to spare the time or you know that your budget can easily take you off the hook, consider hiring professional cleaning services to give your new house the refreshed look it deserves.
13. Tend To Your Pet's Needs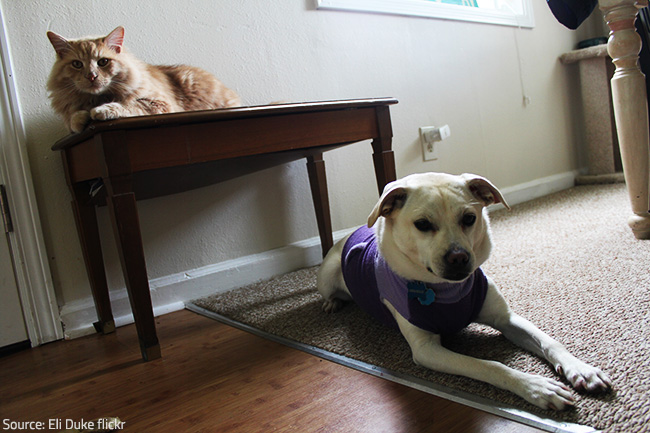 Monitor your pet closely if they seem depressed, refuse to eat or exhibit unusual behavior after a move.
Cleaning your place will also give you a peace of mind if you have a pet. Dogs and cats have a developed sense of smell and can usually sniff out traces of other pets who may have lived in the house before and cause them to start marking their territory. The territorial issue aside, your pet will probably have additional troubles getting used to the strange environment.
Your dog or cat may become a victim of separation anxiety. Just monitor your pet closely if they seem depressed, refuse to eat or exhibit unusual behavior after a move. Keep your cat indoors for the first few days, ideally confined to a single room but provide all the comforts they are used to having, including a number of items from their old life to keep them calm. Introduce your home to your pet slowly, only one room at a time until they get accustomed to the unfamiliar sounds, sights, and smells. As far as your dog goes, take them on short leashed walks to green areas around the neighborhood for a quick and painful adaptation.
14. Change Your Address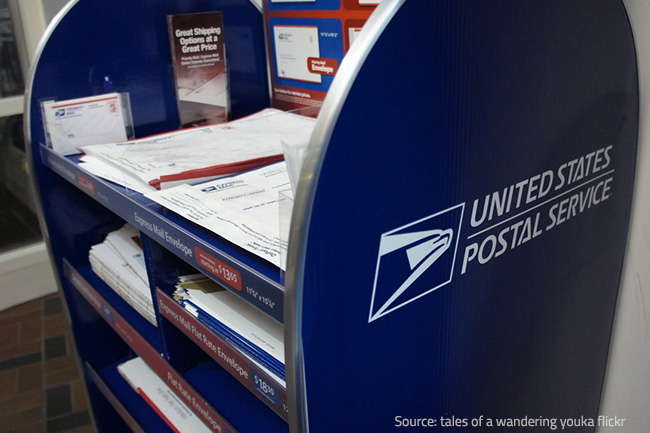 Maybe it's worth taking a walk down to the local post office to do the registration in person, especially if your mail is not being forwarded right.
It's as clear as day (any day except Moving day!) that your new home comes with a new address. If you failed to register your current address with the post office online, then you should do it now.
Moreover, now is the perfect opportunity to inform your friends and specific institutions of your changed postal address. The easiest way to let your pals know where you will be living from now on is to "leak" the info on your preferred social network. Simply post "I've moved!", together with your new address, and all your friends will be congratulating you in a few minutes. Of course, you should also contact banks, credit card companies, insurance companies and other important institutions and inform them of your recent change of address.
If you've changed cities, don't forget to update your information on the voter's registration for your local area. You can do it quickly from this website.
15. Find A Good School For Your Child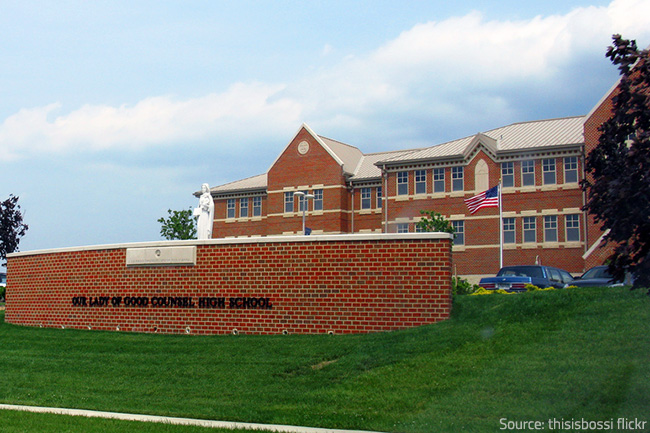 Remember that your child should be actively involved in the process of finding a reputable school.
You must have taken care of this task way before the actual move, but then again, you may have just forgotten to do it (the crazy moving preparations tend to have this amnesia-like effect on people) or you may have had to execute an emergency move with very little time on the clock. If you moved to a new city, you need to find a good school and register your school-age child at it as soon as possible.
Armed with your kid's school records, a good way to start the search is to go online (for example, visit the webpage of the National Center for Education Statistics) and look for suitable educational institutions for your child. Another sensible way to approach the situation is to ask your coworkers and neighbors for advice in the form of recommendations. Whichever method you prefer to explore (why not both?), visit the shortlisted schools together with your kid to get a feel for the academic environment. It's a good idea to call the schools beforehand and arrange a meeting with the principal and/or some of the senior teachers there.
16. Find Health Care Providers
It's critical whom you're going to entrust with the most precious thing you possess, right? Hint: it's your health.
One of the most important things you need to do when moving into a new house in a new city is to find the right health care providers for you and your family. In reality, the task is more than important.
If you have good recommendations from your previous health care provider, then you have nothing to worry about. But if you don't, you'll have to find a doctor who is right for you, for your children and for your pets (if any). Similar to the process of finding a good school, the hunt for a trustworthy primary care doctor, a dentist or a vet should either begin online or even better – through specific suggestions and recommendations from your colleagues at work or the folks who live next door. Take into account your specific medical needs (whether you actually need a primary care doctor or a specialized doctor), the doctor's experience and personality and don't make your final decision before visiting the office in person and having a little chat with your future physician.
17. Register Your Vehicle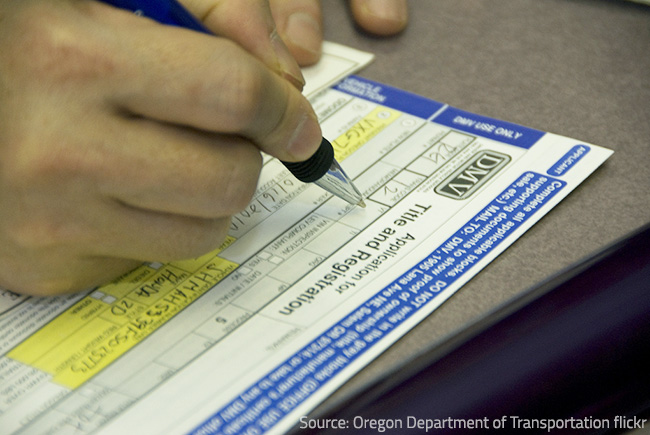 Ask the DMV officials how you can transfer your driver's license to your current state.
Moving into a new home in a new state means that you're going to have to register your motor vehicle in the new state and then transfer your driver's license. In order to cross this task as completed, visit your local DMV office in person and take care of this formality before the deadline is reached (some states give a window of 10 days to register your car while others give as many as 30 days).
At the DMV office, be ready to present a proof of insurance as you are required to purchase insurance from the state you just relocated to.
18. Assess Your Financial And Insurance Situation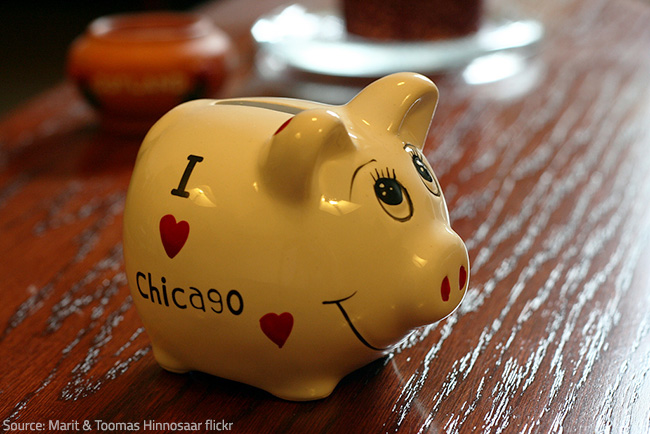 Unfortunately, you may be forced to tighten your belt after the move for the next few months until your disposable income is back to its former self.
Once the relocation is over, it's important that you sit down and assess your current financial situation. Did the move go over your allocated moving budget or did you manage to fit it in? If the relocation cost you much more than you expected, then it's good to get familiar with these 3 fundamental factors for a reasonably priced relocation:
1. Learning in advance how much the move will cost you,
2. Finding the most affordable professional movers, and
3. Taking advantage of various techniques for lowering your moving expenses.
Simply because you never know when another move will sneak up on you.
If you just moved to a new state, you'll probably need to set up new bank accounts as well. Also, contact your insurance companies and check whether you're still covered at your new home or you'll need to create new insurance policies (household, auto, health, etc.) with a different insurer.
19. Set Up Your Home To Your Flawless Taste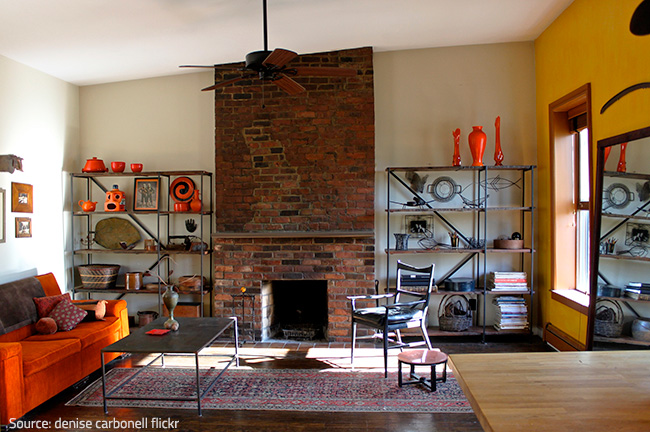 Don't forget the practical side of home décor either: always consider giving a second life to your favorite furniture pieces by restoring them to their former glory before rushing to the furniture store.
Moving into a new home gives you a great opportunity to arrange and decorate your house exactly the way you've always wanted. Now is the perfect time to let out the masterful interior designer in you, the one who's been dormant inside you for years.
Mindful of past mistakes, you're free to purchase new furniture pieces and decorative items, you can play with various colors and shapes, you're encouraged to experiment with different home décor techniques in order to create a peaceful, relaxing and beautiful atmosphere in your home. Add a reasonable number of soft lighting sources throughout your residence to emphasize its charm and place pretty vases of refreshing flowers on specific spots to double the positive energy flow in your living space.
20. Greet Your New Neighbors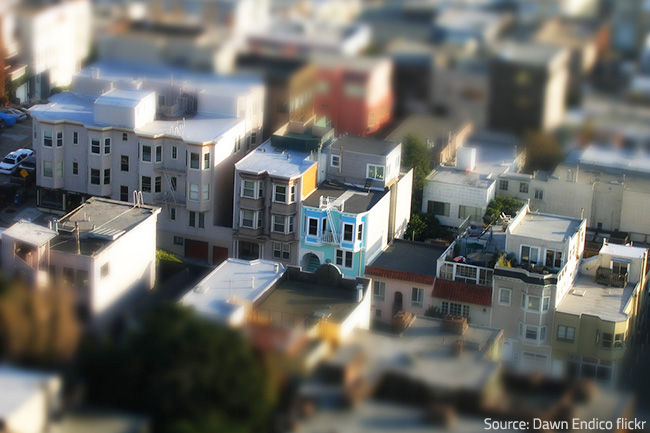 Your neighbors can turn out to be nothing less than an irreplaceable guidebook for that still largely unfamiliar stage in your life.
Everybody needs a bit of guidance when placed in a completely unfamiliar environment. New house, new neighborhood, new city, new state – it'll take some time before this strange sense of unfamiliarity goes away. And until then, it's the exciting prospect of making new friends to get you through the acclimatization process quickly and smoothly.
Even before you're done unpacking, consider going over to the folks next door and saying, "Hi. How are you? I'm your new neighbor.". This initial introduction is not only a sign of good manners, but it's also a chance for you to befriend local people who will undoubtedly help you learn your ways around your new living area.
21. Write A Moving Review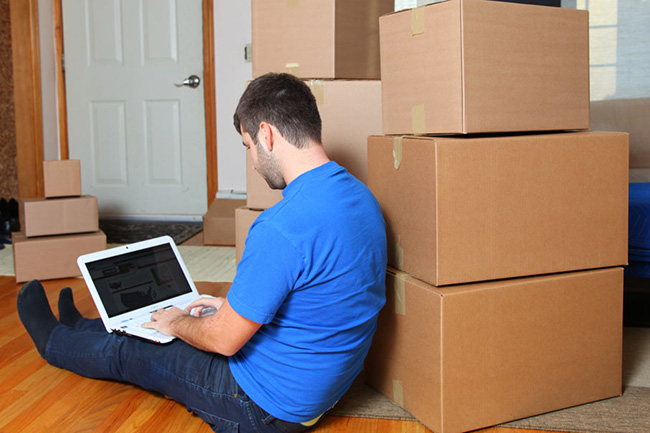 Trust us, your moving review will make a difference!
The move is surely over now, and there are probably some relocation aspects that you would like to forget. And yet, there is one final moving related task that most people don't seem to pay too much attention to, and tend to underrate it by attaching a low priority label to it. Yes, it's about writing a moving review, with which you rate the services of your moving company. You're probably asking yourself, "Why write a moving review? What's in it for me?"
Practice has shown that if you take the time to rate your moving company, you will receive benefits on numerous levels. You will help other compatriots choose better movers and that aid can, sooner or later, get back to you one day if you happen to be facing another move. Your review can serve as a dispute solver if you feel your movers mistreated you in any way. And by briefly narrating your relocation adventure, you'll give your moving satisfaction or dissatisfaction a voice that will be heard.
Bonus Checklist Entry: Enjoy Your New Life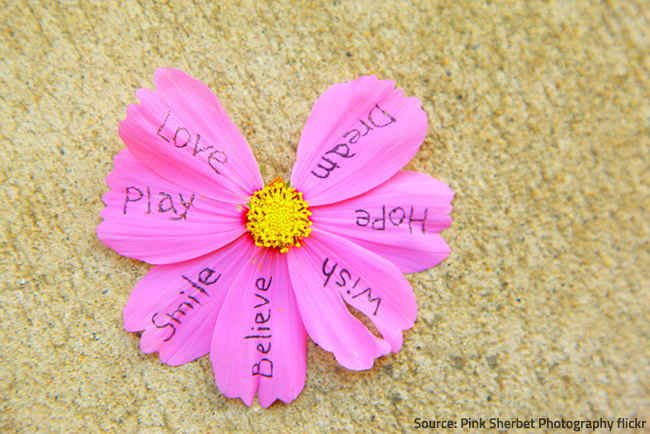 And now it's time to take care of what matters the most: YOU!
---
Will you help us make this house moving checklist even more complete? Can you think of any other important things to do when moving into a new house?
If you like this article, please share it. Thanks!